Classical Chinese
孟冬寒氣至 translation - In the First Month of Winter, Cold Air Arrives
This is a translation of the Chinese poem 孟冬寒氣至 (Mèng dōng hán qì zhì), the seventeenth poem in the Han dynasty collection 古詩十九首 (Nineteen Old Poems).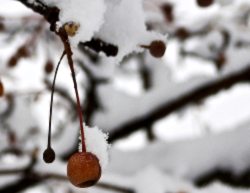 孟冬寒氣至 mèng dōng hán qì zhì [first month] [winter] [cold] [air] [come] In the first month of winter, cold air comes;
北風何慘慄 běi fēng hé cǎn lì [north] [wind] [how] [cruel] [afraid] how cruel and fearsome the northern wind!
愁多知夜長 chóu duō zhī yè cháng [worry] [many] [know] [night] [long] My worries are many as I know the night is long;
仰觀眾星列 yǎng guān zhòng xīng liè [look up] [look at] [multitude] [star] [line up] I look above to see the multitude of stars lined up.
三五明月滿 sān wǔ míng yuè mǎn [three] [five] [bright] [moon] [full] On the 15th, there was a bright full moon,
四五蟾兔缺 sì wǔ chán tù quē [four] [five] [toad] [rabbit] [wane] and on the 20th the Toad and Rabbit waned.
客從遠方來 kè cóng yuǎnfāng lái [stranger] [from] [far] [place] [come] A stranger from distant quarters comes,
遺我一書札 yí wǒ yī shū zhá [leave with] [me] [one] [letter] [note] and leaves with me a letter.
上言長相思 shàng yán zhǎng xiàng sī [top] [words] [long] [each other] [think] At the top it spoke of thinking of one another endlessly,
下言久離別 xià yán jiǔ lí bié [bottom] [words] [long] [leave] [separate] and at the end it spoke of a long separation.
置書懷袖中 zhì shū huái xiù zhōng [put] [letter] [cherish] [sleeve] [in] I put the letter, cherished, in my sleeve,
三歲字不滅 sān suì zì bù miè [three] [year] [word] [not] [extinguish] and after three years the words have not diminished.
一心抱區區 yī xīn bào qū qū [one] [heart] [hold] [trivial] With my heart I hold something trivial,
懼君不識察 jù jūn bù shí chá [fear] [you] [not] [recognise] [observe] afraid that you may not recognise it.
Notes on this poem
The characters 蟾兔 refer to the Toad and the Rabbit, which were perceived in the shadows on the Moon.
Putting letters in one's sleeves (置書懷袖中) was a common practice. It seems that many women at the time wore long robes, and poems frequently mention secret notes and romantic letters that were kept hidden in the sleeves.
In the line 一心抱區區, translated as 'With my heart I hold something trivial', 一 seems to be equivalent to the character 以. The binome 區區 in this line, meaning 'trivial', also appears in the much earlier Hanfeizi with the same meaning.
On other sites
Relevant books
Series: Nineteen Old Poems
孟冬寒氣至 translation - In the First Month of Winter, Cold Air Arrives (this article)