Classical Chinese
揚州十日記 translation: Diary of the Ten Days of Yangzhou, Part 5
This is Part 5 in an annotation of 揚州十日記('Diary of the Ten Days of Yangzhou'). Like 吳城日記, it's a daily log from the year 1645, a year after the Manchus took Beijing, marking the end of the Ming dynasty and the beginning of the Qing (明末清初).
This diary covers the Yangzhou massacre (also known as "The Ten Days of Yangzhou") , and was written by 王秀楚(Wang Xiuchu). You can read about these events, as well as see more translations of the text, in Lynn A. Struve's book on the topic.
As always, if you notice a mistake or have any suggestions, please share them in the comments at the end of the page.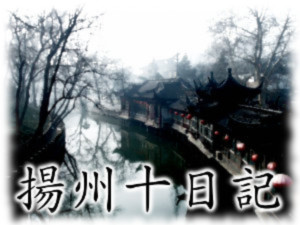 次及予楣,一騎獨指予呼後騎曰:"為我索此藍衣者。" When they came in turn to my door, one cavalryman pointed to me and called out to the cavalrymen behind him, saying: "Demand something from this one in blue clothes for me."
後騎方下馬,而予已飛遁矣; The cavalryman behind him got off his horse, but I had already fled at speed;
後騎遂棄餘上馬去,予心計曰:"我粗服類鄉人,何獨欲予?" After that the cavalryman gave it up, got back on his horse and left; I wondered to myself: "I am dressed coarsely like a rural villager - why did they want me in particular?"
已而予弟適至,予兄亦至,因同謀曰: When my younger brother arrived, my elder brother was already there, and we made plans together, saying:
"此居左右皆富賈,彼亦將富賈我,奈何?" "To the right and left of this it is all wealthy merchants, so they see us as wealthy merchants too; what can we do?"
遂急從僻迳托伯兄率婦等冒雨至仲兄宅,仲兄宅在何家墳後,腋皆窶人居也。 Thereupon my brothers hurriedly took a secluded path, taking the women and braving the rain to get to my second elder brother's house; my second elder brother's house is located behind the He family graveyard, and on either side it is all the houses of poor people.
予獨留後以觀動靜,俄而伯兄忽至曰: I stayed behind alone to observe developments, but suddenly my eldest brother arrived, saying:
"中衢血濺矣,留此何待?予伯仲生死一處,亦可不恨。" "In the main thoroughfare blood has been spilled - what are you staying here for? If we brothers live or die together, we'll have no regrets."
予遂奉先人神主偕伯兄至仲兄宅,當時一兄一弟,一嫂一侄,又一婦一子,二外姨,一內弟,同避仲兄家。 I thereupon respectfully carried our ancestral tablets and went with my eldest brother to our second elder brother's house; at that time my elder brother, my young brother, my sister-in-law, my nephew, a wife and her son, two aunts, my wife's younger brother all hid in my second elder brother's house.
天漸暮,敵兵殺人聲已徹門外,因乘屋暫避; The sky gradually darkened, and the sound of enemy soldiers killing people came to right outside the door, so we climbed up onto the roof to hide temporarily;
雨尤甚,十數人共擁一氈,絲發皆濕; the rain was especially heavy, and the ten or so of us embraced each other under one blanket, and every thread of our hair got soaked;
門外哀痛之聲悚耳懾魄,延至夜靜,乃敢扳簷下屋,敲火炊食。 outside the door the sounds of grief and pain frightened our ears and terrified our souls; we waited until the quiet of the night before we dared to climb down the rafters back into the house, and light the stove to cook some food.
城中四周火起,近者十馀處,遠者不計其數,赤光相映如雷電,闢卜聲轟耳不絕; Within the city walls, in all directions fires had started, with more than ten in locations close by, and with distant ones countless in number; the red light was reflected like thunder and lightning, and the crackling sound rumbled in our ears endlessly.
又隱隱聞擊楚聲,哀顧斷續,慘不可狀。 We could also faintly hear the sounds of the clashes, pitiful and intermittent, so wretched that one could not bear it.
飯熟,相顧驚怛不能下一箸,亦不能設一謀。 The rice was cooked, we looked at each other in fright and distress and could not take one chopstick of it, nor could we think of what to do.
予婦取前金碎之,析為四,兄弟各藏其一,髻履衣帶內皆有; My wife took out the money from before and separated it into four, giving one to each of my brothers, and we hid it - our topknots, shoes, clothes and belts all had some hidden in them.
婦又覓破衲敝履為予易訖,遂張目達旦。 My wife also found a tattered robe and shabby shoes for me, which I changed into; then we were wide-eyed until dawn.
是夜也,有鳥在空中如笙簧聲,又如小兒呱泣聲者,皆在人首不遠,後詢諸人皆聞之。 That night, the birds in the air were like the sound of panpipes, and there was also the sound of a small child crying and sobbing; all of these were not far from our heads, and afterwards were asked various people and they had all heard it.
Sources
Series: Diary of the Ten Days of Yangzhou
揚州十日記 translation: Diary of the Ten Days of Yangzhou, Part 5 (this article)