Classical Chinese
揚州十日記 translation: Diary of the Ten Days of Yangzhou, Part 1
This is Part 1 in an annotation of 揚州十日記 ('Diary of the Ten Days of Yangzhou'). Like 吳城日記, it's a daily log from the year 1645, a year after the Manchus took Beijing, marking the end of the Ming dynasty and the beginning of the Qing (明末清初).
This diary covers the Yangzhou massacre (also known as "The Ten Days of Yangzhou"), and was written by 王秀楚 (Wang Xiuchu). You can read about these events, as well as see more translations of the text, in Lynn A. Struve's book on the topic.
As always, if you notice a mistake or have any suggestions, please share them in the comments at the end of the page.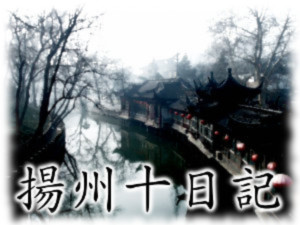 Part 1 · Part 2 →
己酉夏四月十四日,督镇史可法从白洋河失守,踉跄奔扬州,坚闭城以御敌,至念四日未破。 Summer 1645, Month 4, 14th Day: the Regional Military Supervisor [Shi Kefa](https://en.wikipedia.org/wiki/Shi_Kefa) at Baiyang river was defeated, and limped back in a rush to Yangzhou; they firmly closed the city wall gates to resist the enemy; up to the 24th they have not been broken. ([失守](http://www.zdic.net/cd/ci/5/ZdicE5ZdicA4ZdicB1311072.htm) is a binome meaning to fall or to fail, as in to be defeated.)
城前禁门之内,各有兵守,予宅西城,杨姓将守焉。 In front of the city walls, inside every gate there are soldiers guarding; my residence is at the West city wall, under the jurisdiction of a general surnamed Yang.
吏卒棋置,予宅寓二卒,左右舍亦然,践踏无所不至,供给日费钱千馀。 His officials and soldiers are spread out like chess pieces; in my home there are two soldiers, and the houses either side are the same; they are trampling all over the place, and are to be furnished with more than a thousand coins a day.
不继,不得已共谋为主者觞,予更谬为恭敬,酬好渐洽; Before long, we [the neighbours] had no alternative but to discuss this together and invite their master [General Yang] for a banquet; I was deceptively deferential, entertaining him and gradually consulting with him.
主者喜,诫卒稍远去。 The master was pleased, and instructed the soldiers to stay away somewhat.
主者喜音律,善琵琶,思得名妓以娱军暇; The master liked music and was skilled at playing the _pipa_; he wanted to get a famous courtesan to amuse him during his leisure time from military duties;
是夕,邀予饮,满拟纵欢,忽督镇以寸纸至,主者览之色变,遽登城,予众亦散去。 that night, he invited me to drink, contended and intending to indulge himself and be joyous; suddenly a letter from the Regional Military Supervisor [Shi Kefa] arrived; the Master [General Yang] looked it over and the colour drained from his face; he hurriedly went up on to the city wall, and we also dispersed and left.
Part 1 · Part 2 →
Sources
Series: Diary of the Ten Days of Yangzhou
揚州十日記 translation: Diary of the Ten Days of Yangzhou, Part 1 (this article)