Classical Chinese
揚州十日記 translation: Diary of the Ten Days of Yangzhou, Part 15
This is Part 15 in an annotation of 揚州十日記('Diary of the Ten Days of Yangzhou'). Like 吳城日記, it's a daily log from the year 1645, a year after the Manchus took Beijing, marking the end of the Ming dynasty and the beginning of the Qing (明末清初).
This diary covers the Yangzhou massacre (also known as "The Ten Days of Yangzhou") , and was written by 王秀楚(Wang Xiuchu). You can read about these events, as well as see more translations of the text, in Lynn A. Struve's book on the topic.
As always, if you notice a mistake or have any suggestions, please share them in the comments at the end of the page.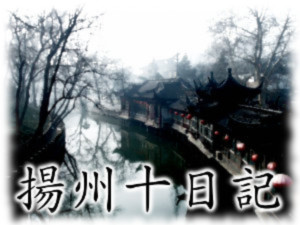 ← Part 14 · Part 15 · Part 16 →
忽又烈火四起,何家墳前後多草房,燃則立刻成燼; Suddenly fires broke out in all directions again, and the numerous thatch huts in front of and behind the He family graveyard immediately burnt to ashes;
其有寸壤隙地,一二漏網者,為火一逼,無不奔竄四出,出則遇害,百無免一。 those who had slipped into crevices to slip through the net were forced out by the fire, and there was not one who did not rush out in all directions and was murdered as soon as they emerged; there was not one in a hundred who avoided it.
其閉戶自焚者由數口至數百口,一室之中,正不知積骨多少矣! Those who closed their doors and immolated themselves numbered from several to several hundred in one house, and one does not know how many amassed skeletons there are!
大約此際無處可避,亦不能避,避則或一犯之,無金死,有金亦死; About then there was nowhere to hide and likewise we could not run; if you hid wrongly, you might die whether you had money or not.
惟出露道旁,或與屍骸雜處,生死反未可知。 We could only come out on to the roadside, or stay with the piled up bodies and skeletons; there was no way of knowing if we would live or die.
予因與婦子並往臥塚後,泥首塗足,殆無人形。 My wife, my son and I went and lay together behind a tomb, with mud smeared on us from head to foot, appearing inhuman.
時火勢愈熾,墓木皆焚,光如電灼,聲如山摧,悲風怒號,令人生噤,赤日慘淡,為之無光,目前如見無數夜叉鬼母驅殺千百地獄人而馳逐之。 At that time the force of the flames burnt even more strongly, and the trees in the graveyard all burned, the light like bright lightning and the sound like collapsing mountains; the grim wind roared furiously, making people dumb, and the red sun was dismal, with hardly any light compared to this; before our eyes it was like countless spirits and demons were driving to their deaths tens of thousands of prisoners of hell, chasing them speedily.
驚悸之馀,時作昏眩,蓋已不知此身之在人世間矣。 When not shaking with fear, at that time I was dazzled and dizzy, and no longer knew if my body was in the mortal realm.
← Part 14 · Part 15 · Part 16 →
Sources
Series: Diary of the Ten Days of Yangzhou
揚州十日記 translation: Diary of the Ten Days of Yangzhou, Part 15 (this article)