Classical Chinese
揚州十日記 translation: Diary of the Ten Days of Yangzhou, Part 3
This is Part 3 in an annotation of 揚州十日記('Diary of the Ten Days of Yangzhou'). Like 吳城日記, it's a daily log from the year 1645, a year after the Manchus took Beijing, marking the end of the Ming dynasty and the beginning of the Qing (明末清初).
This diary covers the Yangzhou massacre (also known as "The Ten Days of Yangzhou") , and was written by 王秀楚(Wang Xiuchu). You can read about these events, as well as see more translations of the text, in Lynn A. Struve's book on the topic.
As always, if you notice a mistake or have any suggestions, please share them in the comments at the end of the page.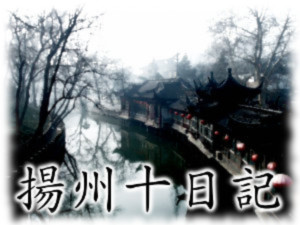 先是督镇以城狭炮具不得展,城垛设一板,前置城径,后接民居,使有馀地,得便安置。 Prior to this the Regional Military Commander [Shi Kefa] had found that the city wall was too narrow, and cannon could not be set up on it; on the city wall ramparts they built platforms with the fronts parallel with the wall and the backs touching people's residences, to give more space and make it easier to set the cannon securely.
至是工未毕,敌兵操弧先登者白刃乱下,守城兵民互相拥挤,前路逼塞,皆奔所置木板,匍匐扳援,得及民屋,新板不固,托足即倾,人如落叶,死者十九; At that point the work had not been finished, and when the enemy soldiers first scaled the walls, wildly brandishing their swords, the soldiers guarding the walls crowded together; the route ahead was blocked, so they all rushed on to these wooden platforms, crawling and pulling to help each other; they wanted to reach the people's roofs, but the new platforms were not firm, and in taking the weight underfoot they collapsed; the people fell like leaves, with nine out of ten of them dying.
其及屋者,足蹈瓦裂,皆作剑戟相击声,又如雨雹挟弹,铿然金訇然,四应不绝,屋中人惶骇百出,不知所为? Of those who made it onto the roofs, their feet trampled on the tiles and broke them, all making the sound of swords and spears clashing; it was also like a hail of shot, clanging and crashing; in all directions it was unceasing, and the people in the houses were panicked and rushed out in great number, not knowing what was going on.
而堂室内外深至寝闼,皆守城兵民缘室下者,惶惶觅隙潜匿,主人弗能呵止,外厢比屋闭户,人烟屏息。 Inside and outside the rooms of the houses, right down to the deepest chambers, all had city wall guards in them; they were panicked and sought out every crevice to hide in; the owners were not able to stop them; the outer rooms and inner rooms were all closed, and people held their breath.
Sources
Series: Diary of the Ten Days of Yangzhou
揚州十日記 translation: Diary of the Ten Days of Yangzhou, Part 3 (this article)