Classical Chinese
李白 烏夜啼 translation: Crows Caw at Night, by Li Bai
This is a translation and annotation of the poem 烏夜啼 ('Crows Cry at Night') by the Chinese poet 李白 (Li Bai). 烏夜啼 is a specific form of poem that was used by various poets.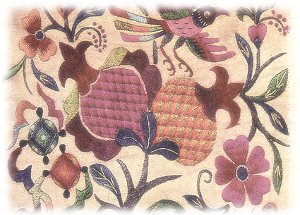 烏夜啼

Wū Yè Tí

[crow] [night] [call]

Crows Cry at Night

黃雲城邊烏欲棲, Huáng yún chéng biān wū yù qī, [yellow] [cloud] [city wall] [side] [crow] [want] [perch] Under yellow clouds, by the city walls, crows want to perch,

歸飛啞啞枝上啼。 guī fēi yāyā zhī shàng tí. [return] [fly] [ya] [ya] [branch] [on] [call] Returning in flight, ya ya, on the branches they call.

機中織錦秦川女, Jī zhōng zhījǐn qín chuān nǚ, [machine] [in] [weave] [embroidery] [Qin] [Chuan] [woman] The Qinchuan lady embroiders in a frame,

碧紗如煙隔窗語。 Bì shā rú yān gé chuāng yǔ. [jade] [gauze] [like] [smoke] [separate] [window] [speech] A jade-green gauze, like smoke, separates her and her words. (There is a sense that the reader is watching 'the Qinchuan lady' from outside the window and is unable to see or hear her clearly.)

停梭悵然憶遠人, Tíng suō chàngrán yì yuǎn rén, [stop] [shuttle] [despair] [-ly] [remember] [distant] [person] She stops the shuttle and mournfully thinks of that distant person; (The distant person is probably her husband.)

獨宿孤房淚如雨。 dú sù gū fáng lèi rú yǔ. [alone] [room] [lonely] [house] [tears] [like] [rain] alone in a room in a lonely house; tears fall like rain.
Links: