Classical Chinese
Six Records of a Floating Life, 3: Kanke Jichou (Section 7)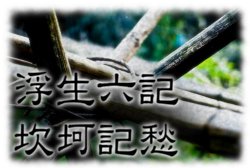 This is a sentence-by-sentence translation from the chapter 坎坷記愁 in Shen Fu's 浮生六記 (Six Records of a Floating Life).
(See the index of Fu Sheng Liu Ji translations)
芸聞而泣曰:「親怒如此,皆我罪孽。 Yun heard this and said, crying, "Your father is angry like this, and it's all retribution for my wrongdoing.
孽 is Buddhist retribution for sins.
妾死君行,君必不忍; If I were to die and you were to carry on, you certainly could not bear it.
妾留君去,君必不捨。 If I stayed and you left, you certainly couldn't forget me.
姑密喚華家人來,我強起問之。」 For the time being, secretly call the messenger from the Hua family; I will strive to rise and ask him.
因令青君扶至房外,呼華使問曰: So I told Qingchun to help her out of the room, and called the messenger from the Huas, saying:
「汝主母特遺來耶?抑便道來耶?」 Did your mistress send you especially? Or were you passing through?
_抑 here means "or". 便道 is literally "convenient way", i.e. "passing through"._
曰:「主母久聞夫人臥病,本欲親來探望,因從未登門,不敢造次,臨行囑咐,倘夫人不嫌鄉居簡褻,不妨到鄉調養,踐幼時燈下之言。」 He said "My mistress heard long ago of my lady's being confined to bed with illness, and originally wanted to make inquiries in person, but because she had never visited before she didn't dare to be rash; on the point of my departure she told me to ask if my lady does not disdain a simple, lowly rural residence, she ought to come to the countryside to regain her health, fulfilling the childhood pledge they made under lamplight."
蓋芸與同繡日,曾有疾病相扶之誓也。 This referred to a day when she and Yun were embroidering together, and made an oath to help each other in case of illness.
_蓋 as an initial particle indicates an explanation of a previous statement. 曾 means "previously" but does not fit well into the translation here. _
因囑之曰:「煩汝速歸,稟知主母,於兩日後放舟密來。」 Therefore she asked him "May I trouble you to return quickly, and report this to your mistress, and after two days, secretly send a boat.
_稟 refers to reporting to a superior in a respectful manner._
其人既退,謂余曰: Once he had left, she spoke to me, saying:
「華家盟姊情逾骨肉,君若肯至其家,不妨同行,但兒女攜之同往既不便,留之累親又不可,必於兩日內安頓之。」 "Sworn sister Hua is as close as flesh and blood, so if you would consent to move to her house, it cannot hurt to come with me; since taking the children along would not be possible, and leaving them would be a strain on our parents and can't be done, we must find a place for them within two days."
_盟姊 means "sworn sister" or "sister by oath". _
Useful links
Series: Six Records of a Floating Life
Six Records of a Floating Life, 3: Kanke Jichou (Section 7) (this article)