Classical Chinese
Six Records of a Floating Life, 3: Kanke Jichou (Section 1)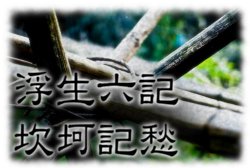 This is a sentence-by-sentence translation and break-down from the chapter 坎坷記愁 in Shen Fu's 浮生六記 (Six Records of a Floating Life).
(See the index of 浮生六記 translations)
人生坎坷何為乎來哉? Why are there disappointments in human life?
坎坷 appears in the title of the chapter. It can refer to the bumpiness of a road or the roughness of life, and has been translated here as 'disappointments'. It could also be 'misfortunes'.
往往皆自作孽耳,余則非也,多情重諾,爽直不羈,轉因之為累。 Usually they are all brought about by one's own misdeeds and nothing more. For me, however, this is not the case; I am a man of great feeling, who values his word, and is straightforward and unrestrained, but these qualities have become the causes of problems for me.
The character 孽 is often translated as 'sin', but its meaning is more complex. It encompasses a Buddhist concept of 'what goes around comes around'. Here it was translated as 'misdeed'. 則 usually means 'then' or 'therefore', but can sometimes have a contrastive sense of 'however', as is the case here. 羈 literally refers to a bridle for a horse (the radicals are net, leather and horse), but can also mean 'restrained', which is used in a negative sense in this sentence.
況吾父稼夫公慷慨豪俠,急人之難、成人之事、 嫁人之女、撫人之兒,指不勝屈,揮金如土,多為他人。 How much more so for my father, the honourable Mr Jia, who is generous and chivalrous, anxious to help those in difficulty, deals with people's problems, and helps people marry off their daughters and raise their sons; examples of these cannot be counted on one's fingers. He spends money like dirt, much of it for other people.
_公 is an honorific meaning 'honourable' or 'just'. This sentence uses a series of four-character phrases. Parsing the first of these, '慷慨豪俠'__, into _English is tricky. The four characters are 'magnanimous', 'generous', 'heroic' and 'chivalrous'. 俠, the last one, perhaps has the most complex meaning, and conveys a sense of high wisdom and military-like expertise.
余夫婦居家 ,偶有需用,不免典質。 When there were unexpected expenses in the household of me and my wife, we could not avoid pawning our belongings.
需用 means 'necessary expense', i.e. one that is unavoidable. The character 典 is often seen on pawn shops in China.
始則移東補西,繼則左支右絀。 At first, we could make ends meet, but as it continued we became unable to cover our expenses.
This line contains two elegant idioms that are difficult to convey into English. The first, 移東補西, describes taking resources from one area to make up for a lack in another, literally 'shift from the East to patch up the West'. The second idiom, 左支右絀, literally means 'the left grips but the right is deficient', and has its roots in archery; even if the hand gripping the bow holds up, it's useless if the hand on the string is sloppy. It has come to mean 'unable to cover all of ones expenses', presumably when there are too many things to deal with.
諺云:「處 家人情,非錢不行。」 As the proverb goes, "To manage a household and maintain relationships, you cannot do without money."
This proverb doesn't come out very well in English, but has a pleasing rhythm and rhymes in Chinese. The concept of 情 is quite complex; it involves ideas of obligation, emotion, human relationship and friendship.
先起小人之議,漸招同室之譏。 Initially this gave rise to gossip among petty people, and it gradually provoked criticism from members of our family.
Here we have the Confucian concept of 小人, the 'petty person' or 'inferior man'. 同室 is literally 'same house', and is an encompassing term for the family at large. 譏 could be translated as 'scorn' or 'ridicule', but here 'criticism' seems more appropriate, considering events later in the chapter.
「女子無才便是德」,真千古至言也! "A woman without talent - that's virtue." True words from the ancients of a thousand-years ago.
The proverb here could also be translated as "a woman without talent really is virtuous", depending on the interpretation of 便 and 是. It seems Shen Fu is using the phrase to lament later events, as elsewhere in the text he frequently writes of his admiration for his wife's intelligence.
Useful links
Series: Six Records of a Floating Life
Six Records of a Floating Life, 3: Kanke Jichou (Section 1) (this article)