Classical Chinese
Six Records of a Floating Life, 3: Kanke Jichou (Section 14)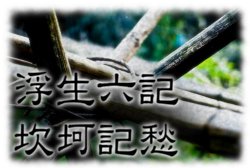 This is a sentence-by-sentence translation from the chapter 坎坷記愁 in Shen Fu's 浮生六記 (Six Records of a Floating Life). It aims to be literal and close to the original text as far as possible, rather than be an idiomatic conversion to English.
(See the index of Fu Sheng Liu Ji translations)
滿望散心調攝,徐圖骨肉重圓。 Full of hope, we were carefree; Yun was nursed to health, and we slowly made plans for kith and kin to be reunited.
_Whilst Yun is not specifically mentioned here, this seems to be the best interpretation._
不滿月,而貢局司事忽裁十有五人,余係友中之友,遂亦散閑。 Before the month was complete, the tribute office staff was suddenly cut by fifteen people; I was listed as the friend of a friend, and thereupon was likewise dismissed.
_係 here means 'listed in the category of'. 散閑 is a binome, literally 'discharged into unemployment'._
芸始猶百計代余籌畫,強顏慰藉,未嘗稍涉怨尤。 At first Yun made a hundred plans and preparations for me, and put on a brave face to comfort me; she never showed the slightest complaint or discontent.
_猶 here is 'to scheme' or 'to plan'. 強顏 is literally 'stubborn countenance'._
至癸亥仲春,血疾大發。 By the second month of spring in 1803, her blood disease flared up again.
_癸亥 is the sixtieth year of the cycle._
余欲再至靖江作將伯之呼,芸曰: I wanted to go once again to Jingjiang and make another plea for assistance, but Yun said:
_[將伯](http://www.zdic.net/cd/ci/9/ZdicE5ZdicB0Zdic86223908.htm) is a binome, from an ancient story about a man asking for help._
「求親不如求友。」 "Making requests of family is not as good as making requests of friends."
余曰:「此言雖是,親友雖關切,現皆閑處,自顧不遑。」 I said: "Although these words are true, whilst our family and friends are deeply concerned, now they are all unemployed; they must look after themselves and are not settled."
_關切 is either a binome meaning 'deeply concerned', or it could be interpreted as 'involved closely', i.e. 'intimate'. 閑處 is literally 'situated in free time', here translated as 'unemployed'._
芸曰:「幸天時已暖,前途可無阻雪之慮,願君速去速回,勿以病人為念。 Yun said: "Fortunately the weather has become warm, so your outlook can have no worry of snow being an obstacle; I hope you can go and return quickly, and not worry about this sick person."
_天時 is a binome meaning 'weather conditions'. The 以 为 structure is literally 'not take this sick person as [cause for] worry'._
君或體有不安,妾罪更重矣。」 If your body were in any danger, my guilt would be even heavier."
_Literally, this is 'your body had anything unsafe', in the sense of 'if anything were to happen to you.'_
時已薪水不繼,余佯為雇騾以安其心,實則囊餅徒步,且食且行。 At that time my income was not continuous, but I pretended that I had hired a mule to keep her mind at peace, and in fact travelled on foot with cakes in my bag, eating as I went.
向東南,兩渡叉河,約八、九十里,四望無村落。 I went towards the south-east, twice crossing the Cha River; after about eighty or ninety li, in all directions there were no villages.
_It's not entirely clear if this 'Cha River', or more literally 'a forked river'. A fork in a river is usually described with 岔, also pronounced _cha_, so it seems likely that 叉河 is the name of a particular river._
至更許,但見黃沙漠漠,明星閃閃,得一土地祠,高約五尺許,環以短牆,植以雙柏,因向神叩首,祝曰: By late evening, I could see only yellow sand stretching on and on; the bright stars were twinkling; I found an earth god shrine, its height roughly a little over 5 feet; it was surrounded by a short wall, with a pair of planted cypress trees; I kowtowed to the god, saying:
_更 here is 'night watch', so the first phrase is literally 'a while after the night watch'._
「蘇州沈某投親失路至此,欲假神祠一宿,幸神憐佑!」
"This certain Shen from Suzhou, in casting himself on his kinsmen, has lost his way and come here; I wish to avail myself of the god's shrine to stay for a night; how fortunate if the god were to show sympathy and assistance!"
於是移小石香爐於旁,以身探之,僅容半體。
At this I moved the small stone incense burner to the side; I stretched my body, but barely half my form was contained.
_Literally this says 'taking my body I stretched it'._
以風帽反戴掩面,坐半身於中,出膝於外,閉目靜聽,微風蕭蕭而已。
I covered my face with my wind-cap reversed; sitting with half my body inside, and put my knees on the outside; I closed my eyes and quietly listened; there was the sound of a light breeze and that was all.
_蕭蕭 is often used to describe the sounds of things, in which case it's not related to the meaning of 蕭 alone ('desolate' or 'mournful')._
足疲神倦,昏然睡去。
With weary feet and a tired spirit, I lost consciousness and went to sleep.
Useful links
Series: Six Records of a Floating Life
Six Records of a Floating Life, 3: Kanke Jichou (Section 14) (this article)