Classical Chinese
韓疁 高陽臺 translation: High Terrace, by Han Liu
This is an annotation of the poem 高陽臺 (Gāo Yángtái), 'High Terrace', by the Song Dynasty Chinese poet 韓疁 (Hán Liú). The poem is #156 in the collection 300 Song Poems").
As always, this is only my beginner's attempt at an annotation. If you have any suggestions, please share them in the comments at the end of the page.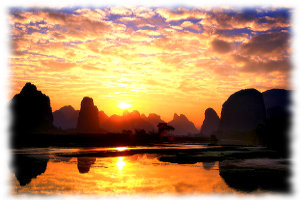 高陽臺

Gāo Yángtái

[high] [sun] [platform]

High Terrace

頻聽銀籤, Pín tīng yín qiān, [frequent] [hear] [silver] [stick] One frequently hears the silver striker - This is a time piece chiming the hour.

重燃絳蠟, chóng rán jiàng là, [again] [light] [purple-red] [wax] once again one lights a crimson wax candle;

年華袞袞驚心。 niánhuá gǔn gǔn jīng xīn. [years][] [roll] [roll] [frighten] [heart] the years have flown by, it startles one's heart.

餞舊迎新, Jiàn jiù yíngxīn, [farewell] [old] [welcome] [new] One sees off the old, welcomes the new -

能消幾刻光陰? néng xiāo jǐ kè guāngyīn? [can] [eliminate] [how many] [quarter hour] [time][] how many hours can that brush away?

老來可慣通宵飲? Lǎo lái kě guàn tōngxiāo yǐn? [old] [come] [can] [accustomed] [through] [night] [drink] As old age comes, why does one get used to drinking through the night?

待不眠、還怕寒侵。 Dài bùmián, hái pà hán qīn. [wait] [not] [sleep], [still] [fear] [cold] [approach] One waits but does not sleep, still afraid of cold's approach.

掩清尊、多謝梅花, Yǎn qīng zūn, duōxiè méihuā, [cover] [clear] [cup], [many] [wither] [plum] [flower] One covers one's clear cup; many withered plum blossoms float by,

伴我微吟。 bàn wǒ wēi yín. [companion] [my] [tiny] [hum] accompanying my quiet humming.

鄰娃已試春妝了, Lín wá yǐ shì chūn zhuāngle, [close] [doll] [already] [try] [spring] [adorn] [-] Close by, young women are already trying to adorn themselves for spring,

更蜂腰簇翠, gèng fēngyāo cù cuì, [change] [beads] [bunch] [blue-green] their hair bunched up with jade-green beads (蜂腰 is a binome referring to beads in long hair.)

燕股橫金。 yàn gǔ héng jīn. [swallow] [tail] [horizontal] [gold] and golden pins shaped like swallows' tails.

勾引東風, Gōuyǐn dōngfēng, [attract] [lead] [east] [wind] Attracting the eastern winds,

也知芳思難禁。 yě zhī fāng sī nán jìn. [also] [know] [fragrant] [thought] [hard] [prohibit] also knowing that instinctive thoughts are hard to suppress.

朱顏那有年年好, zhū yán nà yǒu nián nián hǎo, [vermillion] [face] [that] [has] [year] [year] [good] A rosy face that is good year after year -

逞艷游、贏取如今。 chěng yàn yóu, yíng qǔ rújīn. [show off] [colourful] [roam], [win] [gain] [as] [today] show off one's splendour freely, seize the day!

恣登臨、殘雪樓臺, Zì dēnglín, cánxuě lóutái, [abandon restraint] [climb] [overlook], [remain] [snow] [tower] [platform] Do as one pleases, climb to a view, through melting snow, from a tower,

遲日園林。 chí rì yuánlín. [slow] [sun] [garden] [forest] to see the gardens below the slow sun.
Sources and further reading