Mandarin
Interview with Joel from 1on1 Mandarin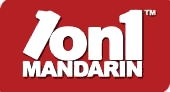 A quick interview with Joel from 1on1 Mandarin, a company in Beijing that offers face-to-face Chinese language tuition.
1. What do you think is the greatest difficulty in learning Mandarin?
This is difficult as each person's experience can be very different. One thing that is most common is the time that it takes to learn it well, especially to speak well. There are a number of factors that determine success, from attitude, age to intelligence, that all determine how quickly and effectively Chinese can be learned.
2. If you could only give one tip to someone studying Mandarin, what would it be?
Just one huh? I would have to say enjoy the journey, no matter how long it takes, if you don't enjoy it, it will eventually wear you out.
3. Do you think it's important to learn to write Chinese characters by hand?
For kinaesthetic learners this can be very important. Writing is not as important for those whose learning styles are either listening or visual, although it can be helpful, especially for the visual learner.
4. Do you think it's necessary to go to a Chinese-speaking country to learn Chinese?
Necessary? It is extremely helpful. There is no doubt that immersion is a huge factor in language acquisition.
5. Who would you say is the biggest competitor for 1on1 Mandarin?
Other schools who offer one on one or small classes in our area.
6. What makes 1on1 Mandarin better?
Teacher quality and training. Not every Chinese can teach Chinese well. An education in Chinese, along with proper training and a natural teaching ability are all important factors in making for a great teacher. We have great teachers.