China
兰州拉面万岁! Long Live Lanzhou Lamian!
I love 拉面! Everywhere I've been in China has had dozens of these little noodle shops, and nearly all of them have a blue sign with white writing proclaiming: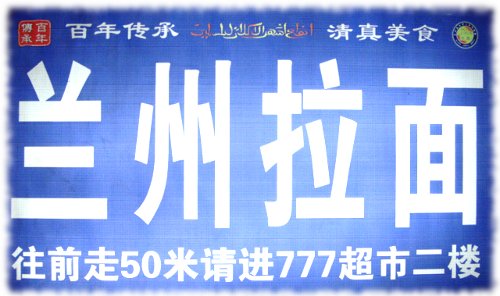 I'm not sure if all of them really do come from 兰州 (Lanzhou), but they do have a very consistent theme and menu. Prices are usually very low, and the food is simple. But it's so good.
The best thing is of course the 拉面 themselves. Literally they're 'pulled noodles', as in hand made noodles. You can usually spot someone in the kitchen wrenching dough into noodle strips. 拉面 are better known in English by their Japanese pronunciation ramen.
My favourite dishes at 拉面 places include:
兰州炒饭 - Lanzhou fried rice. Usually has egg and various vegetables in it.
土豆牛肉盖面 - beef and potato topped noodles.
番茄炒蛋 - eggs fried with tomatoes.
I've never been to a 兰州拉面 place that didn't have these. It's almost like they're a chain store, but as far as I know each one is independently operated. Prices are usually 8 to 16 RMB.
[caption id="attachment_6657" align="aligncenter" caption="The standard 拉面 menu, attached to the wall"]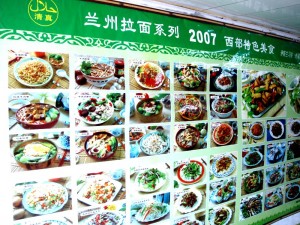 [/caption]
Don't get soup by accident!
Personally, I don't like noodle soup that much. The taste is great, it's just that I don't really enjoy having my lips incinerated with hot water each time I try to slurp a noodle. And if you're an incompetent foreigner like me, the soup goes everywhere whilst you're trying to get those pesky noodles into your mouth.
However, I often end up ordering noodle soup by mistake. 牛肉拉面 actually means "beef noodle soup", even though the soup isn't mentioned anywhere in the product description. You've got to include the 炒 or 盖 in there to avoid getting an excessively hot but frustratingly tasty molten lake of noodles. And try saying that with a mouthful of 炒饭!
禁止饮酒 - 谢谢合作!
As Lanzhou is predominantly Muslim, it's forbidden to drink alcohol in 兰州拉面 places. I have heard talk of one in Qingdao that will let you drink alcohol at their tables outside, though I have never been to this mythical place myself.
Also, rumour has it that many 兰州拉面 places will sell you illegal drugs (but not alcohol) if you know how to ask. I can't verify this, and wouldn't recommend getting involved with drugs in China. You may end up with more chemicals in your body than you bargained for.
Lanzhou Mandarin
The owners of 兰州拉面 tend to have pretty non-standard Mandarin accents, which I will attempt to imitate with British English spelling here:
你好: nee ho
…块钱: ..kway cheen
拉面: laa meen
And so on (I shouldn't have to point out that I romanised it like that on purpose, but there's always one…) For foreigners in 拉面 places, it's one of those rare situations where Mandarin is the common language despite it not being the native language of either speaker.
I love 拉面
As you can see, I'm a big fan of 兰州拉面 places. I appreciate their cheapness, ubiquity and predictability. If you're hungry in China, 拉面 is always a good bet.