Study
Use Zotero for essays and dissertations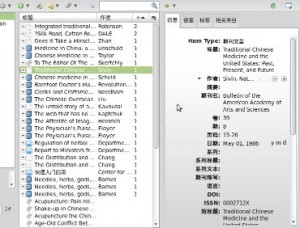 If you're a student and haven't heard about Zotero, I'd strongly recommend that you start using it.
If I was going to make a hall of fame for academic / study software, Zotero would definitely be in it, and near the top spot.
Find and store references
The software is in two parts. One is a browser plugin (there's only support for Firefox at the moment, but more on the way) that lets you easily save citation data from a huge range of websites by clicking an icon in the address bar.
The plugin can read a variety of different citation formats that are embedded in web pages, including Amazon, JSTOR, BBC News and all sorts of others (including the catalogue pages of many libraries). This lets it grab all the information necessary for a citation (title, author, publisher, location, date, ISBN etc. etc. - there's loads) with one click, and save it into your list of references.
Then you can browse this database of saved references, edit it, and manually add references if necessary. A quick tip for getting books into your Zotero citation database: find the book's page on Amazon, then just click the button in the address bar to save it.
Make citations and generate a bibliography
The second part of Zotero is a plugin for your word processor. There are plugins available for Microsoft Office and Open Office. These let the word processor interact with all the information you've got saved in Firefox (you can see where this is going).
Then, when you're writing your essay or dissertation and need to cite something, you just click a button, find the reference in your Zotero list and click OK. It's now cited in whatever style you want; Zotero can generate citations in loads of different styles, including Harvard and Chicago.
Then you can click another button and have Zotero automatically produce a complete bibliography. Done.
Zotero is addictive
This doesn't just take the pain out of referencing and compiling bibliographies - it actually makes it fun. I find myself hunting out extra books and articles to read just so that I get Zotero to cite them automatically for me.
Also, the developers have a sense of humour, so it's got everything. And it's free, open source and can sync your citations between different computers.
The only slight problem is that as you produce very large documents with a lot of citations (say 20 pages with 15 citations a page), it can get quite slow to insert more references. A minor gripe, though, and one that may be resolved with a stand-alone platform that's in the works.