Study
Install East Asian languages support on Windows XP without the CD
More recent versions of Windows have East Asian Languages support out of the box, but unfortunately Windows XP doesn't have this functionality unless you install it. To get East Asian Languages support on Windows XP, you have to use the original installation CD / DVD, but most people don't have this for various reasons.
Installing East Asian Languages support in Windows XP
There's some chance that you won't actually need the CD to get East Asian Languages support in Windows XP, so it's worth trying to install it normally first. If you've already tried this and know how to do it, skip this section.
Go to Control Panel and open the Regional and Language Options window.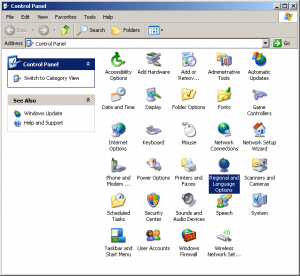 At the bottom of that window there's a check box labeled "Install files for East Asian languages". Click that check-box, and click OK on the pointless file size warning that comes up.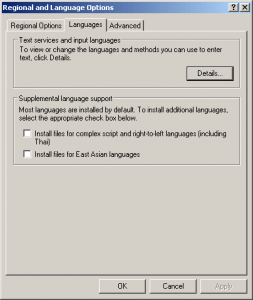 Then click the Apply button in the main window. This will then attempt to install East Asian Languages support. If you're lucky, it may work just like that, in which case you're done here. However, it may ask for the Windows XP installation CD. If you don't have that, use the section below.
Installing East Asian Languages support without the CD
So how can you get CJK language support (Chinese, Japanese and Korean) without the install disc? You could just install a decent operating system like Linux Mint, but there are ways to get proper language support on Windows XP if you need it. You've just got to get hold of the necessary file somehow.
There's actually quite a good chance the file will be on your hard-drive already, but in some hard-to-find location. Here are some potential locations, but it could be anywhere:
C:I386 C:I386lang C:WINDOWSI386 C:WINDOWSServicePackFilesi386lang
The file you're looking for is called cplexe.exe, so if you can't that file in any of the above locations try doing a general search for that. If you can find the file on your hard-drive it's much better as you won't need to download it (the file is fairly large and downloading random files is dangerous).
If you can't find it, though, then it's time to start searching around for a copy online. Just Google for cplexe.exe.
This is obviously quite a dodgy process as you're downloading and installing some random file off the Internet, so exercise your judgment and caution when looking at websites to download it from. I would also suggest using Windows Security Essentials to scan anything you download for malware before you open it.
Once you've got that file, go back through the process above. When it asks for the CD, just click on Browse… and find the cplexe.exe file you've got.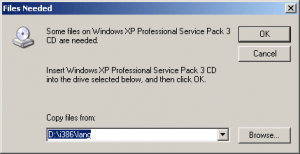 That should start copying the necessary language support files.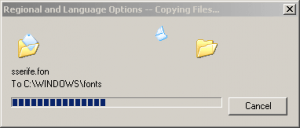 Every now and then the installer will ask for more files. Just keep giving it the same cplexe.exe file; all of the necessary items are contained in that. It will also ask if you want to overwrite some files - click Yes every time.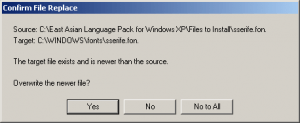 Once that process is finished you'll need to restart. East Asian languages (CJK) should now display correctly. If you've got any questions (or suggestions) please share them in the comments below.