Mandarin
Known Chinese Words Test from zhtoolkit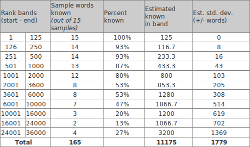 I've just taken the brilliant Known Chinese Words Test from zhtoolkit.
It shows you a random sample of 200 items from a huge list of Chinese words ranging from very common to very rare, and uses your responses to estimate your total vocabulary.
Apparently my vocabulary is currently around 11175 words, though I've no idea if this is correct or not. To me it seems a little high, but I've not taken any other tests like this to compare results. Skritter can attempt to give you similar information after you've been using it for a while, but it can only gauge based on words you've chosen to add to your study lists.
Learner benefits
The test really is great for Mandarin learners. It gives you a very detailed report when you're finished, with results broken down for different levels of rarity in the vocabulary list. It also lets you download a list of the words that were used in your test so that you can study them yourself.
Research project
The results of each test taken are also going to be used in a research project, according to the zhtoolkit website. I don't know exactly what the research is on, but judging from the questionnaire before the test I think it may be looking at the effectiveness of different learning approaches over a period of time.
Whatever it is, I'm sure it'll be interesting and useful for learners, so the test is win-win for the user and the research. Definitely worth doing.
Also, have a look at the Chinese Character Test from Clavis Sinica.