Mandarin
Pinyin phonetics table with audio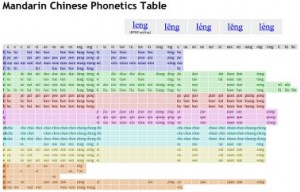 Lost-theory Chinese has produced a freely available pinyin chart with audio.
There's no built-in audio player, but every possible syllable is available for download as a wav file.
The chart is based on a slightly old fashioned page on Chinese Phonetics, and both seem to be freely available for private use.
If you want to perfect your pronunciation, it might be worth adding them all to an Anki deck and using a microphone to fine tune the sounds you're producing.
The chart also includes audio files for the bopomofo method of sounding out words (also known as 'zhuyin'), which is popular in Taiwan.