Mandarin
The difference between 还是 and 或者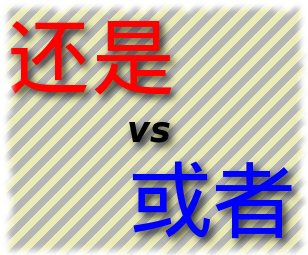 Two common words for 'or' in Chinese are 还是 and 或者. They have specific, different uses that are quite easy to get right once you know how.
还是 vs 或者
The main difference is that generally 还是 is used in questions, and 或者 is used in statements. Translations of 或者 often involve 'either', whereas translations of 还是 are often just 'or'.
还是 examples:
你喜欢蓝色的还是红色的? Nǐ xǐhuan lán sè de háishì hóngsè de? "Do you like the blue one or the red one?"
这是报纸还是杂志? Zhè shì bàozhǐ háishì zázhì? "Is this a newspaper or a magazine?"
你想吃法国菜,日本菜还是中国菜? Nǐ xiǎng chī fàguó cài, rìběn cài háishì zhōngguó cài? "Do you want to eat French, Japanese or Chinese food?"
或者 examples:
(Note that 或者 is often reduced to just 或 in written Chinese.)
每天我骑自行车或者坐公车上班。 Měitiān wǒ qí zìxíngchē huòzhě zuò gōng chē shàngbān. "Every day I either ride a bike or get the bus to work."
觉得难过的时候,我跟朋友说一下话或出去散步。 Juéde nánguò de shíhou, wǒ gēn péngyǒu shuō yīxià huà huò chūqù sànbù. "When I'm feeling low, I talk with friends or go out for a walk."
我想学钢琴,吉它或长笛。 Wǒ xiǎng xué gāngqín, jítā huò chángdí. "I would like to learn to play the piano, guitar or flute."
So, 还是 means 'or' in presenting a choice between two or more options, whilst 或者 is 'or' in linking together different possibilities into one.
或者 in questions
还是 is a question word, but 或者 is not. 或者 can appear in questions, but the sentence would need to include another indication that it is a question, such as 吗. This allows Mandarin to avoid an ambiguity that sometimes crops up in English, with sentences like this:
"Do you want tea or coffee?"
This could mean "Which of these do you want to drink?" or "Would you like either of these?" In Mandarin, the distinction is clear:
你想喝咖啡还是喝茶? Nǐ xiǎng hē kāfēi háishì hē chá? "Tea or coffee - which would you like?"
你想喝点儿咖啡或茶吗? Nǐ xiǎng hē diǎnr kāfēi huò chá ma? "Would you like some tea or coffee?" ⇒ "Do either of these appeal to you?"
Summary
还是
Generally used in questions.
Is a question word.
Has a sense of 'which'.
Presents a distinct choice between two or more options.
Is exclusive.
或者
Can be used in questions or statements.
Is not a question word.
Has a sense of 'either'.
Links possibilities together.
Is inclusive.
Useful links