Study
Wacom Bamboo Pen & Touch review (CTH-460)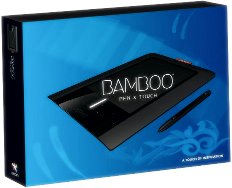 ")I've had my Wacom Bamboo Pen & Touch") for six months now, since I broke the pen on my old graphics tablet (note: do not drum on your desk with the pen).
I think using a graphics tablet with Skritter is by far the best way to study Chinese characters - it's enjoyable to the point of being addictive. So, there was no way I wasn't replacing the graphics tablet.
I could've just bought a new pen, although I found they cost about two thirds the price of a whole new tablet, and I'd been wondering what the touch model was like for a while. The Pen & Touch costs half as much again as the pen only version, though, so it's quite a significant difference.
Packaging
As with my previous Wacom tablet, the Pen & Touch came beautifully packaged, with several layers in the box making it feel like you're opening a present. The box is also huge, far bigger than it needs to be for the contents. This does actually bother me these days; I respect companies who go for greener, less impressive packaging.
Basic design
The Bamboo tablet I had before was an older generation, so there were a couple of new features on this tablet. First,the tablet seems thinner and flatter than the old design, although I think this is actually an illusion created by the tapered edges, which slope down away from the writing surface. It does still look sleek and cool though.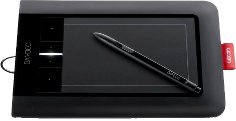 ")The edges are rounded, too, and the new tablet is a longer, more rectangular shape. The surface itself manages to have a more matte finish than the older model, but actually feel smoother. People have mixed views on this, as it now feels less like paper. Personally I quite like it being so fluid to write on.
There are a few minor improvements as well. The new pen is a lot more solid than the old one, and looks a lot less like a toy. The 'rubber' end is firmer and doesn't rattle around so much.
Another small redesign is that the cable comes out of the left side, rather than the top. I actually find this makes a big difference and lets the tablet sit more neatly on my desk. A small change, but it makes a difference.
Finally, rather than a separate pen-holder, there's now a red-fabric tab on the right side of the tablet. I find this much more convenient as it doesn't clutter up the desk and actually holds the pen properly. It's also red with black, which always looks smart.
Touch
On to the main purpose of the tablet: touch. I first used the Pen & Touch on a Windows 7 installation, and it worked beautifully. Really responsive, intuitive touch which was fun to use. The gestures also worked really nicely - you can scroll, resize etc as you would on a touch-screen smart phone.
There are drivers for Mac too, and I'd imagine that it works at least as well as on Windows (though I've not had chance to try it).
However, I don't normally use Windows; I use Linux Mint. I'd heard that you have to fart around compiling drivers for the Pen & Touch on Linux, which I wasn't looking forward to. However, Linux Mint 11 just recognised the tablet and it worked immediately. It was easier than Windows.
Well, the pen functionality was. Touch is very dodgy on Linux Mint, pretty much to the point of being unusable. There's a lot of lag and the cursor skips all over the place. Gestures don't work at all.
This will probably improve in future, but currently touch is so annoying that I actually turned it off (I got sick of accidentally clicking things whenever I leaned on the tablet).
Price
The Pen & Touch was £60 on Amazon when I bought it, but as of October 2011 it's gone up to £80. That's a huge rise, and I've no idea why. The pen-only version has gone from £40 to £50 in that time. I would say that £60 was too much, and strongly recommend buying the Bamboo Pen-only"). I never use the touch functionality, but love using the pen.
Also, I've noticed that whilst the Pen & Touch is £80 on Amazon UK, it's around $80 on Amazon US. So that works out to £80 vs £50 - a huge difference. It might be import costs, but I'm still a bit peeved that UK customers are paying £30 more for the same product.
Wacom Bamboo Pen & Touch review: Roundup
Whilst I am very pleased with the Pen & Touch, everything I like about it is included in the much cheaper pen-only version. However, that is just because touch support is so disappointing on Linux. This will probably improve as the community works on the drivers (or Wacom might even start releasing Linux drivers themselves!).
Until then, though, I'd say that the pen-only version is definitely a better buy if you use Linux. For Windows and Mac users, it may be worth having the touch functionality if you'll really use it. I found I didn't miss it at all after using it on Windows. It's cool, but kind of redundant when you've got the pen.
Links:
See also: Wacoms - Skritter")