Japanese
Japanesepod101 sign up offer
[caption id="attachment_202" align="alignleft" caption="Japanesepod101 signup offer"]
[/caption]
My copy of the JapanesePod 101 sign up offer package arrived in the post today. I'm not sure if it's really a 'package', just being two discs in a box.
Scam or not a scam?
As I'm sure a lot of other people are, I was a bit wary when the Japanesepod101 sign-up started singing the praises of their one-time-only, exclusive introductory offer that could be mine if I paid just $10 for postage. Googling suggested that it wasn't anything dodgy, so I handed over my $10 (or £6.50).
I can say now that the Japanesepod101 sign up offer is not a scam.
You get two discs; an audio CD and a data DVD. I put the CD in first, and wasn't particularly impressed - it's a series of interviews with various people who've mastered Japanese in different ways. They talk about using textbooks, dictionaries, immersion, online resources and so on. There's a lot of wise advice in there that's probably very helpful if you've never studied a foreign language before, but it's the sort of information you can easily get for free off the internet. Pretty nice to have for free, but I paid £6.50 for it.
The Wondrous DVD of Goodies
[caption id="attachment_207" align="alignright" caption="The discs in the Japanesepod101 sign-up offer"]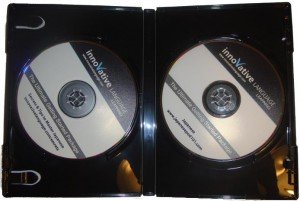 [/caption]
The DVD, however, is a different story. It contains about 2Gb of audio and video lessons, with accompanying PDF sheets showing kanji and other information. It's all arranged into folders and looks like it'd be pretty good for a beginning student of Japanese.
So, despite an unfortunately pushy marketing style, the Japanesepod101 sign-up offer is probably worth the money; it's a convenient way to get a permanent hard copy of a lot of their learning materials, and £6.50 isn't such a bad price for that.