Japan
Donate to the Japan earthquake relief effort
Japan has been hit by the most powerful earthquake in its recorded history, as well as a devastating tsunami.
Google has set up a page which makes it very easy to donate to the earthquake relief effort, as well as find up to date information on the situation there.
Please consider making a donation as everything helps.
[caption id="" align="aligncenter" caption="Soil liquefaction in Koto, Tokyo"]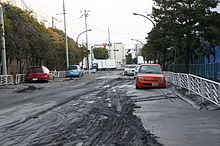 [/caption]
[caption id="" align="aligncenter" caption="Destruction in Sendai"][](http://en.wikipedia.org/wiki/2011_Sendai_earthquake_and_tsunami)[/caption] [Donate to the Japanese Red Cross](http://www.google.com/intl/en/crisisresponse/japanquake2011.html "2011 Japanese Earthquake and Tsunami")