Mandarin
Interviewed by Steven Daniels on Lingomi Blog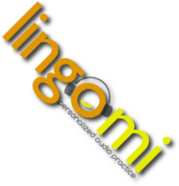 Steven Daniels at Lingomi was kind enough to interview me about learning Chinese of East Asia Student") and other related things.
I was quite surprised to be included in the series, as the others interviewees include like syz, Albert Woolfe and other such Chinese-niche big fish.
The questions were about my time studying Chinese, the obstacles I faced, my advice for beginners, Classical Chinese and my Japanese studies. You can also ask me more questions in the comments (here or there).
If you haven't already subscribed to the Lingomi Blog, I'd strongly recommend that you do so. Steven produces a lot of great content, including the "technology applied to Chinese" kind of thing that I'd like to do if I had the know-how.
Lingomi itself is a Chinese-learning product focused on listening, and particularly on mastering tones:
*Lingomi helps Chinese learners get better tones.* Lingomi gives you useful products that help improve your listening and pronunciation skills.