Study
Easter Term 2010 exam results (AMES)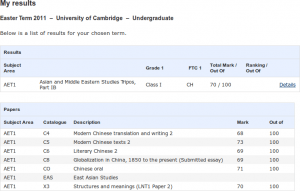 I'm putting up my grades for the first year of Asian and Middle Eastern Studies (Part 1A - exams in Easter Term 2010).
I just scraped a first! Two marks lower and it would've been a 2:i:
AET1 Asian and Middle Eastern Studies Tripos, Part IA Class I 71 / 100
Module breakdown:
C4: Modern Chinese translation and writing 2 68 (2:i)
C5: Modern Chinese texts 2 73 (first)
C6: Literary Chinese 2 69 (2:i)
C8: Globalization in China, 1850 to the present (Submitted essay) 69 (2:i)
CO: Chinese oral 71 (first)
X3: Structures and meanings (LNT1 Paper 2) 70 (first)
So I was pretty lucky to get away with quite a few 2:i's in that mix and get a first overall. Next objective is to get a first in second year, which decides my Part I mark.